Building the Right Culture
Typically, your team are the "keepers of the culture". They reflect values and culture to clients, customers, other agencies and the community. Everyone knows the importance of the culture of teams or organisations. It starts with getting the basics right, the foundations.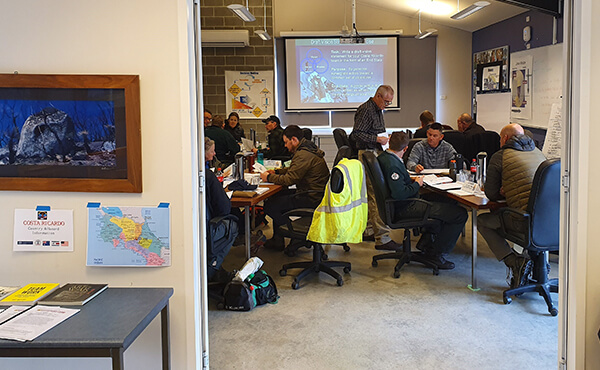 The Task Force Needs You:
Building your Team, Building your Culture
Type: Workshop
Duration: 4 hours
In this 4-hour scenario-based workshop, we develop the foundations for high functioning teams and groups and provide and also practice the tools to enable you to build your team and influence the culture of your team, group or organisation.
Through the scenario, we provide participants with the opportunity to develop and practice their skills and concepts by trying different techniques and approaches for solving problems which are readily applicable to their own situation. The scenario provides a "safe place" to do this.
Outcomes
Develop your team or group's values or help embed your organisation's values to become an "anchor point" for your team.
Understand and practice different communication techniques to assist in addressing issues within a team respectfully.
Type: Workshop
Duration: 2.5 hours
Unlike other forms of stories and narrations, a case study should not include analysis or conclusions, but only the facts of a story arranged in a chronological sequence.  The purpose of these workshops is to place participants in the role of decision-makers, asking them to distinguish pertinent from peripheral facts, identify central alternatives among several issues competing for attention and formulate strategies and maybe even policy recommendations.
The 2.5-hour workshop provides an opportunity to sharpen problem-solving skills and to improve the ability to think and reason rigorously. It employs active learning, involves self-discovery and uses questioning skills, discussion and debates.
Type: Presentation
Duration: 2 hours
Have you ever seen or led people who seem to have broken every accepted rule or principle and made some really bad decision? People who you thought were a bit smarter than their actions suggested. In this 2-hour presentation, we explore decision making and also how human factors and stress influence our decision making and why it can be challenging to make decisions in complex, dynamic and high risk or high stress situations.
We explore how to make the most of the learning opportunities that come from human error to help develop a more error-resilient team.
What to Do When You
Don't Know What to Do?
Type: Presentation
Duration: 90 minutes
This 90-minute presentation explores and challenges traditional thinking and responses to difficult or novelty events; events you've never experienced before.
Delivered in an engaging and entertaining style, we use real life examples to help illustrate the difficulties faced and also shed light on different approaches to working through the situations.
Jamie has played a vital role within our community, helping us to engage with stakeholders and develope the now award-winning and internationally recognised, Strathewen-Arthurs Creek Bushfire Education Partnership. Every year, Jamie's inspiring workshops are eagerly anticipated by our students.
We have engaged Jamie over the past 9 years to lead tabletop exercise scenarios for the Falls Festival, Amy's Gran Fondo, Nightjar and Pier to Pub. We love working with Jamie because he brings such an intelligent, dynamic approach to emergency planning for these major events.
Jamie tailored a training/workshop that met our specific needs and that enabled us to understand what happens to the mind and body when we are placed under stress and how to harness that energy to make effective decisions. I cannot recommend Jamie highly enough
The Tabletop Exercises facilitated by Jamie McKenzie have become a key aspect to our planning throughout the year. By acting out different emergency scenarios, the training has assisted us to review our processes and highlight areas for improvement.